Alice Barker loved to dance from the moment she was born. As she says, dancing was all she ever wanted to do. She was born in Chicago, and left for New York City to become a dancer in her mid 20's—which was quite a bold move for a woman in her time.
For her entire career she worked as a chorus line dancer in New York City, on Broadway and during the Harlem Renaissance of the the 1930s and 40s. She danced at clubs such as The Apollo, Cotton Club, and Zanzibar Club, where she was part of a legendary group known as the Zanzibeauts.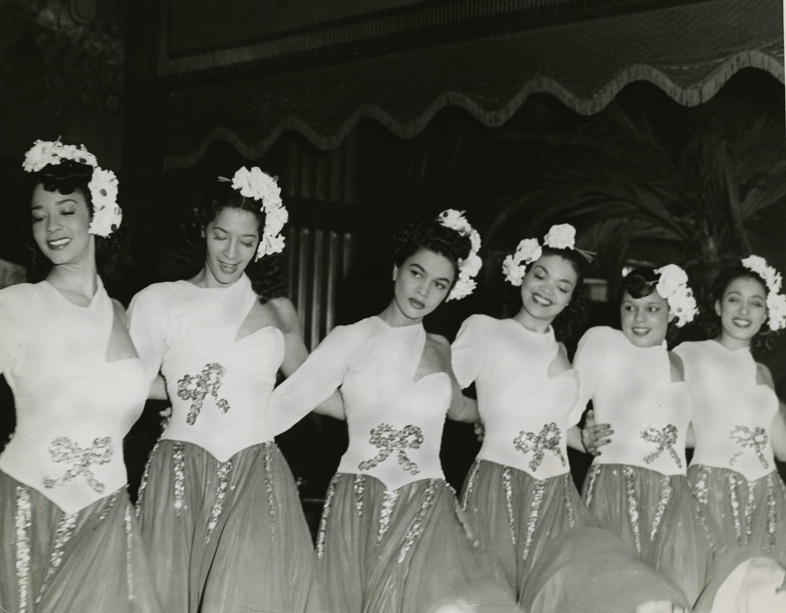 She also danced in numerous movies, commercials and TV shows with legends including Bill "Bojangles" Robinson, Gene Kelly,  and a young Frank Sinatra.
The short musical films we found of Alice are called "soundies," and they were among the first films that used sound. Typically a soundie would be shot in a popular night club, and feature whatever the hot performer or song was at the time. The films would be distributed in jukebox-like devices that were placed in bars, clubs and racetracks, where people could watch them for a coin.
Given this, it makes sense that Alice would never have seen any of the soundies she performed in back in the day. She saw herself on TV a handful of occasions when she was in a commercial or featured on a show, but this was way before there was any way to keep a recording of a broadcast for herself!
Alice was married twice, and never had any children. She stayed close with many of her dancing friends throughout her life and into her senior years. However an illness and prolonged hospitalization, combined with her relocation to a nursing home, lead to her losing touch with them. Unfortunately, it was simply a time and an age in life when it was a lot easier for people to lose track of each other.
Moreover, all of her photographs and memorabilia from her career had been in the lost in her multiple moves. When we met Alice, she'd not seen any images, nor been able to share anything more than her stories, in over 10 years.
Hopefully with this backstory, the depth of the impact seeing her films had on her can be appreciated even more. The attention and appreciation she received since then—from those around her every day, to people from around the country and the world—revitalized her and had her positively glowing. Always a bright spirit, she truly became a new woman.
As an added bonus of her new fame, Alice was able to reconnect with some of her dancer friends and their children, who grew up with Alice around. She had a phone conversation with a colleague she hadn't talked to in over 20 years, there was much laughter and definitely some tears.
Alice celebrated her 103rd birthday—with a troupe of dancers coming to perform for her—on July 30th, 2015. Which was delightful for everyone involved.
Alice passed away peacefully on Wednesday, April 6th, 2016.
She spent the last day of her life in good spirits, listening to music and enjoying having her fan mail read to her by Gail.
As she often did, Alice commented again how amazed and thankful she was that people remembered her and took the time to write, "I really feel that these people care about me."
Her fans the world over truly gave joy and meaning to the last years of her life. She was always humbled and honored that she could be an inspiration to others.
When Gail left for the day, Alice gave her a send-off wink.
And please, it's Barker, not Baker! 😉